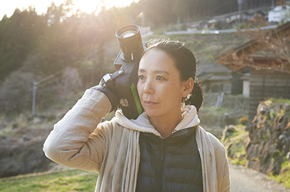 Short Film News (SFN)- In 2015, Un Certain Regard opened in poetic fashion with Sweet Bean (An) by Naomi Kawase. The Festival de Cannes is honoured to announce that the Japanese director will preside the Cinéfondation and Short Films Jury for its 69th edition.

There are some directors whose careers are constantly intertwined with the Festival, much to its delight. The story with Naomi Kawase began back in 1997 when aged 27, she became the youngest winner of the Caméra d'or for her film Suzaku (Moe no Suzaku). The promise of this early discovery has since been reaffirmed time and again – as borne out by the selection in Competition of a whole series of her feature films: Shara (Sharasojyu) in 2003, The Mourning Forest (Mogari no Mori) in 2007, Hanezu (Hanezu no tsuki) in 2011 and Still the Water (Futatsume no mado) in 2014. In 2013, as a member of the Feature Film Jury, Naomi Kawase played a key role on the Croisette alongside Steven Spielberg.

In her films Naomi Kawase uses limited budgets and prefers non-professional actors – a sign of the director's beginnings in the documentary genre, which first brought her to prominence after she graduated from the Photography School of Osaka. Her 1992 documentary Embracing (Ni tsutsumarete), in which she charts her search for the father who abandoned her, and Genpin in 2010, in which she explores the subject of women who have opted for natural childbirth, are two outstanding examples.

With The Mourning Forest (Mogari no Mori) in 2007, which picked up the Grand Prix in Cannes, the director's fame grew still further. Film buffs throughout the world began to discover a rich, sensitive, intimate œuvre, with a distinctive blend of hyperrealism and spirituality. In film after film, Kawase experimented with a variety of genres and formats to explore the autobiographical themes she holds dear: family bonds, our relationship to time and to loss, and a celebration of nature, particularly in her native region of Nara in the centre of Japan.


It was also in this region in 2010 that this internationally reputed director – who now stands out across the entire Asian continent – founded the International Nara Film Festival, dedicated to promoting the work of young directors – a commitment that Naomi Kawase will no doubt be keen to uphold during her presidency of the Cinéfondation and Short Film Jury.


When her appointment was announced, Naomi Kawase said: "Films enrich people's lives, and their worlds inspire new possibilities. It is a little over 100 years since the advent of films, and their potential is ever expanding. They are exceptional media that can embody the diversity of world cultures, and their stories are like another life that enchants the audiences who see them.

Short films are exceptionally difficult, facing the question of how much of a story can be experienced in their short duration, while they also contain myriad possibilities yet unseen. And among films created by students there will be the discovery of hidden brilliance like a gemstone, which makes me very much look forward to participating in this jury, a journey of adventure."

Gilles Jacob added: "From her Japanese roots, Naomi Kawase (Caméra d'or 1997) takes her extreme delicateness, refined manners and moral elegance. Her pointillist talent has helped generate a cinematic intelligence and a subtle art full of poetic mystery and graceful simplicity, conveyed through the great emotions of life and the tiny gestures of everyday existence. This year she will join a long line of great presidents of the Cinéfondation and Short Film Jury, from Martin Scorsese and Abbas Kiarostami, to Jane Campion, Hou Hsiao Hsien, John Boorman and the Dardennes brothers."