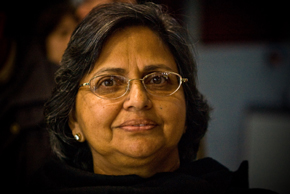 Iranian Films Have Found their Subtle Way

Maryam Papi (SFN)- Indu Shrikent is a member of the team was publishing the first magazine on Asian cinema who still has taken the major responsibility of this team work. Although Cinemaya magazine is not publishing anymore, Osian's film festival, its vibrant produce is attracting film lovers from all over the world.

The current director of the 12th Osian's Cinefan Film Festival of Asian and Arab Cinema, joined Aruna Vasudev's journal in 1993 and along with her team, launched the film festival in 1999. She is a film critic but believes that is a better organizer of film festival. It is only her knowledge of Asian cinema, her active presence in discussions and her communication with Asian and Arab world's film that makes you believe on her saying: 'film is in our DNA'.
I would like to know your opinion as the director of festival about the secret of developing this festival which have beenfounded by the people were running a cinematic magazine?
The success of our festival is that our small team passionately love cinema, Asian and Arab cinema and of course Indian cinema. We are here to promote that cinema and get the best of this region for the audiences in Delhi. Wealso introduce directors to the audiences and givingthem a very exciting journey. Our festival is not just films, we have panel discussions as well. For us, our directors and their films arethe most important andthey are like the kings. We want them to interact with the audiences who are also very excited of what we offer them.

One of the most known names in this festival is Marco Mueller, the Director of Rome Film Festival. What made you to think about inviting him?
We know Marco Mueller for many years but more than that,he considers Mani kaul,our eminent and talented filmmaker, as his teacher, and used to call him 'Guru Ji' which in Hindi means dear teacher. AlsoMarco Mueller wanted to produce Mani's latest film. Unfortunately he passed away and we instituted memorial lecture in memory of Mani Kaul who was also Director General of the 11th Osian's Cinefan Film Festival. So, we could not think about a better person to deliver this inaugural memorial lecture in memory of Mani Kaul other than Marco Mueller. He willingly came and said I will do anything. So he is on the jury and speaks on some panels.

Your festival has given some awards to Iranian films during these years. In your opinion why Iranian films have been eye-catching?
Iranian films are so good. Their whole content and quality is so excited.

Is there anything to do with closeness of Iranian and Indian culture?
The whole Asia we are together. The whole Arab world we included, we embraced the Arab world. First we only had the Asian countries of the Arab world. But we thought evenAlgeria and Tunisia are similar in a sense. West Asia and Iran also! There are so many links with Persia and people appreciate their sensibilities, and the films have a very great quality and are very good.

This year also you have some Iranian films and jury members from Iran. Why have you considered such a bold presence for Iran?
We know the films that have been made and ask them to send us the screen of a selection. Then we watch and select them in groups.
Considering the presence of Iranian cinema in your festival, what is your general view of Iranian cinema specially in the recent years?
Iranian cinema is going through aturmoil but is getting better and stronger, because they make films under such difficult circumstances and we admire them even more for being able to show the reality in such a subtle way and reach out to the world.

In the 12th festival, you granted a life time award to Samir Farid, the Arab critic. What was the main reason to select him?
His contribution to introducing world cinema to the Arab world and Arab world to the rest of world has been very important and he worked hard on that. Also he has written so many books in this.

Who the Arab cinema which joined in 2007, changed the atmosphere of this festival?
In my view, it completed the whole partial. There was a piece missing and the Arab cinema completed this festival.

What is your goal and perspective for future of this festival?
I want to see it going bigger, better. I want more and more films to come to our festival which then get launch to the whole world and we are very proud to present Indian, Asian and Arab cinema.