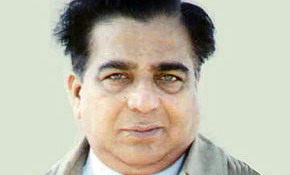 Short Film News (SFN) - Sudhir Nandgaonkar, veteran Indian film critic is the Third Eye Asian Film Festival director. The festival which opens today October 16, is organized by Asian Film Foundation and has a competitive section for fiction shorts.
Nandgaonkar was a FIPRESCI jury member at the 69th Cannes Film Festival. He explains about Third Eye, his point of view about Indian cinema and Iranian films.
The name of your festival is Third Eye which is obviously an Eastern concept. What is your reason to choose this name?
Third eye represents third world countries & the aesthetics of Asian cinema which is different from European cinema. Secondly, third eye is camera eye of director as well as audience.
Your main goal is to extend Asian cinema and the big continent's filmmakers. What are your secondary goals?
India is the largest democratic country in Asia, but Indians have no opportunity to see Asian movies, because it has no theatrical release. Only Hollywood films are screened theatrically. It is our goal that finally Asian films will have market in India.
Indian cinema usually is known as Bollywood. But your cinema, surely, has a much broader perspective. Indian filmmakers such as Satyajit Ray in the past or Mira Nair at present are the masters of a different Indian cinema in the world. What perspective can you render from Indian cinema as an experienced critic?
You are referring to Mira Nair. Her films are called cross over cinema in India. It is not main stream cinema which is called Bollywood in Indian cinema. There are two different trends on popular cinema – films of Subhash Ghai, Yash Chopra, Mani Ratnam etc. Another is called parallel cinema. Shyam Benegal, Adoor Gopalkrishnan, late Satyajit Ray etc. Both are reaching to world audience. Parallel cinema is competing on festival circuits.
Since most of the screens in Asian countries are conquered by Hollywood films, how can Asian cinema are introduced in the whole world as an independent action?
It is a difficult task. We have to be equipped like Hollywood. E.g. distribution, chain of theaters and publicity built up in newspapers. I think today only Korea is doing excellent spade work and finally we will have to dub the films in the country's language. Hollywood is doing it.
Is concerning the local characteristics of their society and country by the Asian filmmakers can be a help to success Asian cinema?
No films must be rolled in local milieu. The director should try to project universality in subject, like Majid Majidi in Children of Heaven.
How much Third Eye has been successful during the past years to get nearer to its goals?
One can measure the success by counting how many Asian films are having theatrical release. In India now films from Iran, Japan, Korea, and Pakistan are being released in theatres. It was started with Majid Majidi's Baran. It ran for 12 weeks in Chennai. Slowly Asian films are releasing in India. Recently, Turkish film Three Monkeys was released in Mumbai. This was not the situation seven years before.
One of the most important sections in your festival is the competition of the first and second films. In Iran, the emerging filmmakers usually have a great share in international successes and continuity of artistic and different style of cinema. Considering your knowledge in Asian countries cinema and your experience as the festival director, please tell us if it is the same as Iran in other Asian countries.
Like Iran, some other countries such as Korea & China have new talents which are emerging.
What is the position of Short Films Competition in the festival?
The response is very good. Last year we received 140 entries.
Have you ever met any brilliant talent during the past editions of the festival in short film competition?
No, not yet.
How is the status of producing and distributing short films in India?
It is very difficult. Indian audience when go to the theaters, want two & half hour film.
Do you think that short film can gain an identity as an independent medium?
Yes. It is possible.
Usually documentary is one of the main areas for filmmakers to discover the concepts and gaining experience. Are you planning to add any section for documentaries?

No, our idea of competition is to hunt future talents for feature film.

You know Iranian Cinema very well. What qualifications in Iranian films have attracted your attention?
The simple story told in simple narrative style is the specialty of Iranian cinema.
How can Iran and India, as two Asian countries with great cinema industry, have closer relationship in cinema field?
This is possible in two ways: Both can use locations in each other and secondly it can be co-production.
What is your great wish for Third Eye Festival?
Third Eye Festival is situated in Mumbai which is called capital of Indian cinema. So, Third Eye should become one of the top film festivals to showcase Asian cinema – south Asia, central Asia, and East Asia and so on.