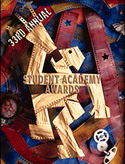 13 young filmmakers from nine colleges received honors for their short films from the Academy of Motion Picture Arts and Sciences.
Christmas Wish List by Sean Overbeeke won the top prize in the narrative category and Carrie Lozano's Reporter Zero was the gold medal winner in the documentary category. Also, Elalini by Tristan Holmes' from South Africa was the Honorary Foreign Film Winner, chosen from a pool of 29 submissions from 22 countries.
Winners get $5,000 for gold medals, $3,000 for silver medals and $2,000 for bronze.
The Student Academy Awards were established in 1972 to support college filmmakers. Past winners who have gone on to successful careers in Hollywood include Spike Lee, Robert Zemeckis, John Lasseter and Trey Parker.
Nia Vardalos, Kevin Smith and Academy president Sid Ganis presented the prizes at the Academy's Samuel Goldwyn Theater in Southern California.
The list of winners:
Alternative
Gold Medal: Perspective by Travis Hatfield and Samuel Day, Ball State University, Indiana
Silver Medal: 6 A.M. by Carmen Vidal Balanzat, City College of New York
(Only gold and silver medals were awarded in the Alternative category.)
Animation
Gold Medal: The Possum by Chris Choy, California Institute of the Arts
Silver Medal: The Dancing Thief by Meng Vue, Ringling School of Art and Design, Sarasota, Florida
Bronze Medal: Turtles by Thomas Leavitt, Brigham Young University
Documentary
Gold Medal: Reporter Zero by Carrie Lozano, University of California, Berkeley
Silver Medal: The Women's Kingdom by Xiaoli Zhou, University of California, Berkeley
Bronze Medal: Three Beauties by Mak Hossain, Purdue University
Narrative
Gold Medal: Christmas Wish List by Sean Overbeeke, University of North Carolina
Silver Medal: El Viaje (One Day Trip) by Cady Abarca-Benavides, Columbia University
Bronze Medal: Pop Foul by Moon Molson and Jennifer Handorf, Columbia University
Honorary Foreign Student Film Award
Elalini by Tristan Holmes, The South African School of Motion Picture Medium and Live Performance